Order Your Meal
Plan

Lovingly Prepared
by Our Chefs

Delivered
Nationwide

Straight to Your
Home or Workplace

Heat, Eat & Enjoy!
Why Choose Our Meal Plans?

Healthy chef made meals from our award winning restaurant

Nutritionist designed meal plans to meet your dietary needs

Real food, big flavours - all made from scratch every day!
A business with purpose Our Story
We're a local, family-run food company on a mission to make healthy food delicious and fast. Simple.
We're a business with purpose and passion with very strong ethics in relation to food quality, transparency and looking after our planet. We source only the freshest food and local where possible. We use primarily plant-based foods to make our dishes and make all of our sauces from scratch using veggies and spices. We don't use creams, butters, MSG or any nasties and you won't find a deep fat fryer in our kitchen, we promise!
We launched our casual style restaurant Wholesome Kitchen in the lovely Mullingar back in August 2019. We're now very excited to launch our second business – healthy meal plans.
Read More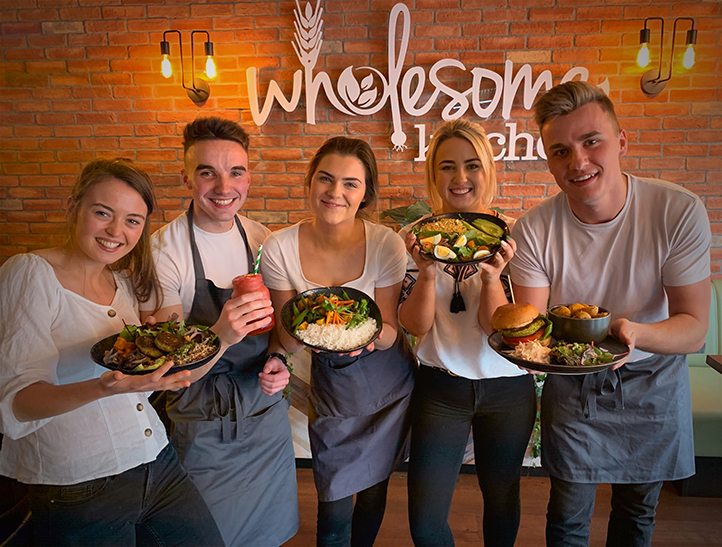 What people say Testimonials
Love all of W's dishes, full of veg & flavour and leave you without that guilty feeling. Highly recommended if you're in the area or ordering online Anne L
This is a fantastic restaurant which serves amazing food with lots of vegetarian, vegan and gluten free options. Very lucky to have this in the midlands Sarah S
I'm a regular customer to this restaurant and LOVE their food. They're the friendliest bunch around all in an amazing atmosphere. I've tried their new meal plans and they're a lifesaver Peter D